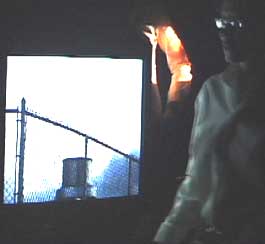 Child performing at blind eye Extravaganza, Chashama Theatre, Times Square, NYC, January 24, 2002.
Work for blind eye project: Abigail Child's "Best of Both Worlds" was a comparatively spare counterpoint to Naval's calculated barrage. She and her assistant dressed in white smocks and black crotch-harnessed belts, miming lab technicians or electricians, positioned – and repositioned – themselves both casually and deliberately to reflect the light of TV monitors and to catch the projection of a film that was reflected off a Mylar wall onto a white screen. Two TV monitors, in sync, were tuned manually by Child, and assistant Fernanda Affonseca, to broadcast programming. These were often left tuned to distorted and rolling images but would surface occasionally into a realizable broadcast image. A third much larger screen played back a crisp video of city winter skyscapes, of roofs, smoking furnace stacks, rhymed with clouds rolling in real time across the frame. It included sound and had both a passive and faintly sinister overtone [the storm approaches] though its references were largely to the quotidian and diurnal exterior world. The film projector ran a sex scene from a 1970s pornographic film in which a man describes being penetrated by a woman wearing a "strap-on" dildo. Near the end of the piece we hear him state: "…It was like having the best of both worlds…" A third musical source played a minimal rapid-beat of synthesized music. The issues raised in the performance, inspired by the Exoptic Theme, include: the narrative force of the body; the body as obstacle and desire; ideas of INTERFERENCE; the competing textures of the mediated visual world as techno fuzz, window, and/or deflected projection [the reflected screen]; the contrast of attention between the exterior and the interior, between the 'real' and the mediated, between what can be 'tuned' and what continues despite human ' interference.' All this with a crackling ironic humor bubbling underneath. Bio as submitted December 2001: Child is a film and video maker whose original montage pushes the envelope of sound-image relations with sensitivity, smarts and passion. Her work in the 80s explores gender while focusing on strategies for rewriting narrative, creating the cult classics "Mayhem" and "Covert Action" while her 1990s productions recuperate documentary to poetically explore public space. Her recent film Surface NOISE (2000) was featured at the New York Film Festival last fall and her new DARK DARK (2001) premiered at this year1s NYFF. o She has exhibited her award-winning art extensively in both solo and group shows, including The American Century, 1950-2000 at the Whitney Museum, the Whitney Biennial (1989 + 97), the New York Film Festival & Video Side Bar (1989 + 1993), and the London, Rotterdam, Pesaro, and Torino Film Festivals, among others. She is author of several books of poetry (A Motive for Mayhem, Mob and Scatter Matrix most recently). Her films have been shown on television both here and abroad and for her media work, Child has received Fellowships from the Guggenheim and Fulbright Foundations, ITVS "American Narratives", NEA Interarts, the Jerome Foundation, Massachusetts Arts Council, Creative Artists Foundations, and multiple grants from from New York Foundation for the Arts and New York State Council for the Arts. Her films are in the permanent collection of The Museum of Modern Art, New York and the Centre Pompidou, Paris: her work has been written about in The New York Times, The Village Voice, LA Times, AfterImage, LA Weekly, San Francisco Bay Guardian, Toronto Globe among others. Child studied History & Literature at Radcliffe College and graduated with a MFA from Yale University School of the Arts. She has taught film/video production & history at various schools, including New York University School of the Arts, San Francisco Art Institute, Hampshire College and Sarah Lawrence, as well as a writing workshop at the Kootenay School of Writing in Vancouver (1991). She is currently Chair of the Film Area at the Museum School of Fine Arts in Boston. SELECTED WORKS IN FILM, VIDEO + NEW MEDIA (Director, Producer, Camera & Editor unless indicated)
2000- PLAYLIST, (web work/installation in progress) w/Benton Bainbridge + Eric Rosenzweig
200- WHERE THE GIRLS ARE (film/installation in progress)
2001 DARK DARK, Part 2 How the World Works (l6mm film)
2000 SURFACE NOISE , Part 1, How The World Works (16mm film)
1999 BELOW THE NEW: A Russian Chronicle (video)
1999 CATCH ME IF YOU CAN (script for ITVS "American Stories") w/M. Ragona
1996 B/SIDE (16mm film)
1994 THROUGH THE LOOKING LASS (video) w/Lenora Champagne
1993 SWAMP SONGS (interactive video performance) w/Benton Bainbridge, Vicky Funari + Ikue Mori
1992 EIGHT MILLION (video album) w/Ikue Mori
1990 SWAMP (video) w/ Sarah Schulman
1989 MERCY, Part 7, Is This What You Were Born For?
1988 BOTH, Part 3 "
1987 MAYHEM, Part 6 "
1986 PERILS, Part 4 "
1984 COVERT ACTION, Part 5 "
1983 MUTINY, Part 2 "
1981 PREFACES, Part 1. Is This What You Were Born For?
1979 ORNAMENTALS
1979 PACIFIC FAR EAST LINE
1978 PERIPETEIA
1978 DAYLIGHT TEST SECTION
1977 PERIPETEIA I
1977 SOME EXTERIOR PRESENCE 1975 TAR GARDEN
1972 GAME
1970 EXCEPT THE PEOPLE RECENT FESTIVALS & HONORS: New York Film Festival premiere DARK DARK (2001); NYFF‹SURFACE NOISE (2000); also Rotterdam Film Festival; Black Maria Film Festival Award; Images Film Festival; Eastman House; Pandaemonium Biennial Lux Centre, London. The Color of Ritual, The Color of Thought: Avantgarde Women Filmmakers 1930-2000 at the Whitney Museum of American Art (Fall 2000); The American Century 1950-2000 at the Whitney Museum (B/side and Born For? series); purchase of complete Born For? by The Museum of Modern Art, NYC (1999).